The Body Keeps the Score: Blink/Yawn Registry. 2020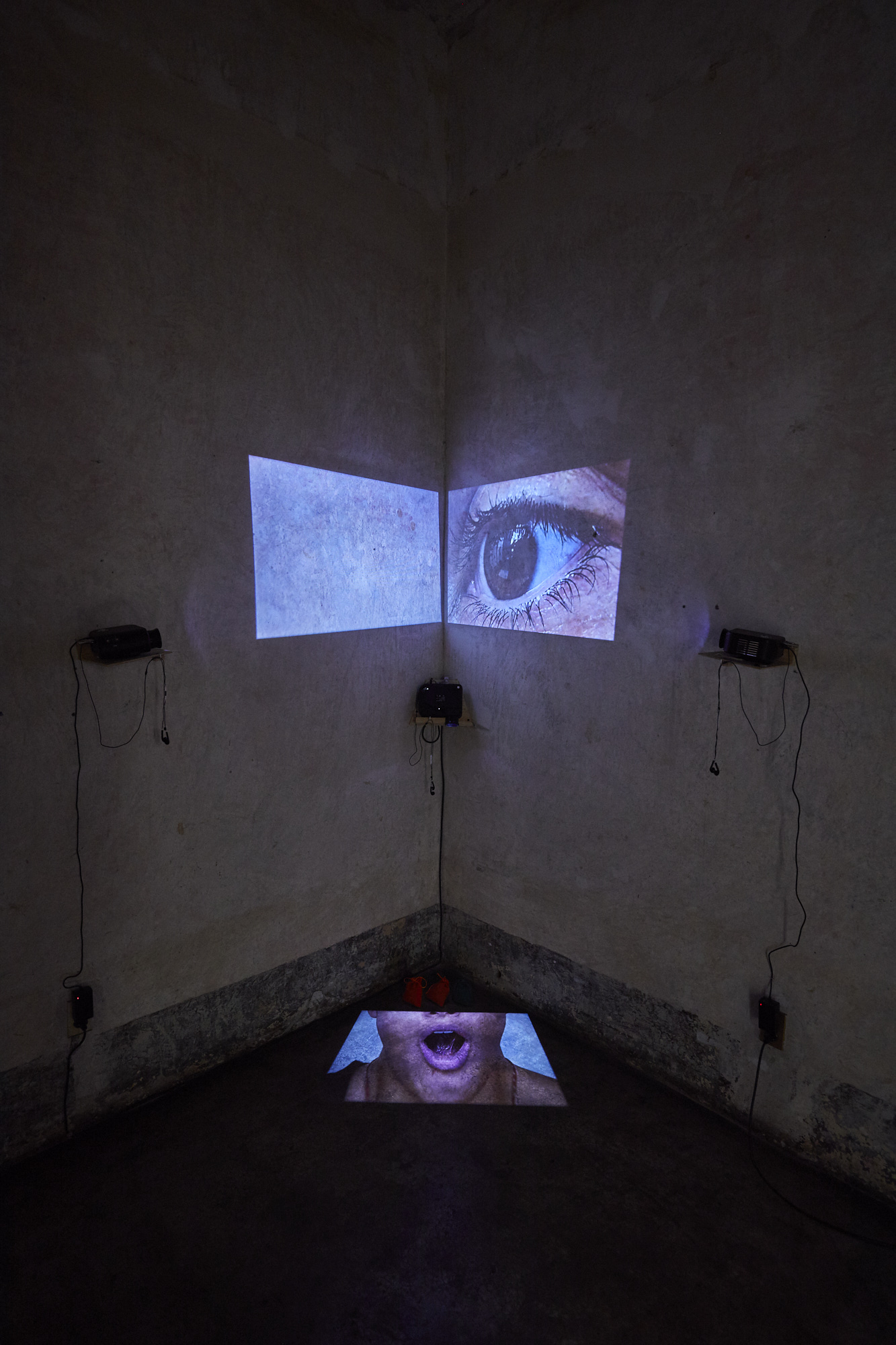 Choreographer: Renata Pereira Lima
Duration: 58:26min loop
Mixed media: 3 projectors, 3 head sets, 3 usbs, Bonafont water fountain with motor
Three channel video, color, sound
Documentation: Sergio Lopez
Writer: Addison Bale

The artist has annotated the eyeball.

Layered in time, the body is on camera, then on paper, then real life: choreography was always something between drawing and cartography. In the case of "The Body Keeps the Score: Blink / Yawn Registry", the video and the video on paper is the score (the seconds between blinks and yawns, the quantity of blinks and yawns), as blinking makes a rhythm of itself, its own shape and form. Sometimes we blink faster and wider, other times we blink slow because we are drowsy, or we yawn when we feel drowsy. As repetition warps their functions, blinks and yawns abstract themselves toward semiotic notation: blink as number, as punch-in, as time signature, as musical note; yawn as bass, as footnote, as iteration, as point of reference.

The videos focus, through their simplicity, on these systems of choreography that play out to no end, unrecognized, unaccounted for, and yet they mark the body with a rhythm inextricable from the happenstance of living.

Blinks and yawns are isolated for their involuntary design as mechanisms that check us into continuity; they beget their own record of annotation as a happening without intention. Through this lens, time itself is recast as a measurement relative only to the dryness of the eyeball and sequential blinking, or the length of activity that results in fatigue and sequential yawning. The otherwise untraceable history of yawns or blinks becomes imprint on the physio-memory of the body. "The Body Keeps the Score" seeks to amplify this. In a pre-choreographic return to annotation, blinks yield scribbles and yawns yield curves, marking up the body as it imperceptibly bears the score, replete with unseen dance.


In the corner of The Bob Space: Called
"The Body Keeps the Score: Blink / Yawn Registry"
/ stop / like muscle memory, or other conditional metronomes that move us into conscious and unconscious behaviour.
Blink like beat / stop / Blink to wet / stop / start over
/ trying not to blink / start. Thin flesh come down over eyeball, pressed tight, makes a thick curve barbed with eyelashes open
/ Open / stop—open / Stay—open / the room feint in the reflection of her iris, the iris brown and beautiful to look at / blink / Stop / record / blink for archival purposes. Blinking / and yawning are so primordial they are like nothing, they are like the wind dancing in the trees / it is not dancing / stop / but when the choreographer (Renata) records
blink and / yawn they are supra-movement or
not-even-movement / like research they are pre-choreography or anti-choregraphy and they are also the / moment.
We cannot look away from the eyeball / stop— we / do not know what it is looking at / Stop / we know not / what we look at / start over / we cannot look away from so much.
Stop.
It is / like the artist knew I would think of phone screens or how funny it is to stare at anything at all if you are not going to join in on the action / start over / all / yawn.






La artista ha anotado el ojo.

En capas de tiempo, el cuerpo está en cámara, luego en el papel, luego en la vida real: la coreografía siempre fue algo entre el dibujo y la cartografía. En el caso de "El Cuerpo Lleva la Partitura: Registro de Parpadeo / Bostezo," el video y el video en papel es la partitura (los segundos entre parpadeos y bostezos, la cantidad de parpadeos y bostezos), a medida que el parpadeo hace un ritmo de sí mismo, su propia figura y forma. A veces parpadeamos más rápido y amplio, otras veces parpadeamos despacio porque estamos somnolientos o bostezamos cuando nos sentimos somnolientos. A medida que la repetición deforma sus funciones, los parpadeos y los bostezos se abstraen hacía la notación semiótica: parpadean como número, como marcar tarjeta, como compás, como nota musical; bostezo como bajo, como nota al pie, como iteración, como punto de referencia.

Los videos se enfocan, a través de su simplicidad en estos, sistemas de coreografía que se desarrollan sin fin, no reconocidos, no contabilizados, y sin embargo, marcan el cuerpo con un ritmo inextricable la casualidad de la vida.

Los parpadeos y bostezo se aíslan por su diseño involuntario como mecanismos que nos ponen en continuidad, engendran su propio registro de anotación como un acontecimiento sin intención. A través de este lente, el tiempo se reformula como una medida relativa solo a la sequedad del ojo y parpadeo secuencial, o la duración de la actividad que produce fatiga y bostezos secuenciales. La historia de bostezos y parpadeos, que de otro modo sería imposible de rastrear, se convierte en una huella en la fisio-memoria del cuerpo. "El Cuerpo Lleva la Partitura" busca ampliar esto. En un regreso pre-coreográfico a la anotación, los parpadeos ceden a garabatos y los bostezos ceden a curvas, marcando el cuerpo mientras lleva imperceptiblemente la cuenta, repleto de danza invisible.



En la esquina de The Bob Space: llamado
"El Cuerpo Lleva la Partitura:
Registro de Parpadeo / Bostezo"
/ para /
como la memoria muscular u otros metrónomos condicionales que nos mueven en un comportamiento consciente e inconsciente. Parpadea como latido / para / parpadear para mojar / comienza de nuevo / resiste a parpadear / comienza.
La carne fina desciende sobre el ojo, aprieta con fuerza, forma una curva gruesa con pestañas como púas abiertas
/ Abre / para—abre / mantente—abierto / la habitación finta en el reflejo, el iris marrón y hermoso para mirar / parpadea / Para / graba / parpadea con fines de archivo. Parpadear y bostezar son tan primordiales que no se parecen a nada, son como el viento bailando en los árboles / no es bailando / para / pero cuando la coreógrafa (Renata)
graba Parpadeo y / Bostezo son supra-movimiento o
ni siquiera movimiento / como investigación son pre-coreografías o anti-coreografías y son también el / momento.
No podemos apartar la mirada del ojo / para, nosotros / no sabemos lo que está mirando / para / no sabemos / lo que miramos / comienza de nuevo / no podemos apartar tanto la mirada.
Para.
Es como si la artista supiera que yo pensaría en las pantallas de los teléfonos o en lo divertido que es mirar fijamente cualquier cosa si no te vas a unirte a la acción / empieza de nuevo / todos / bostezan.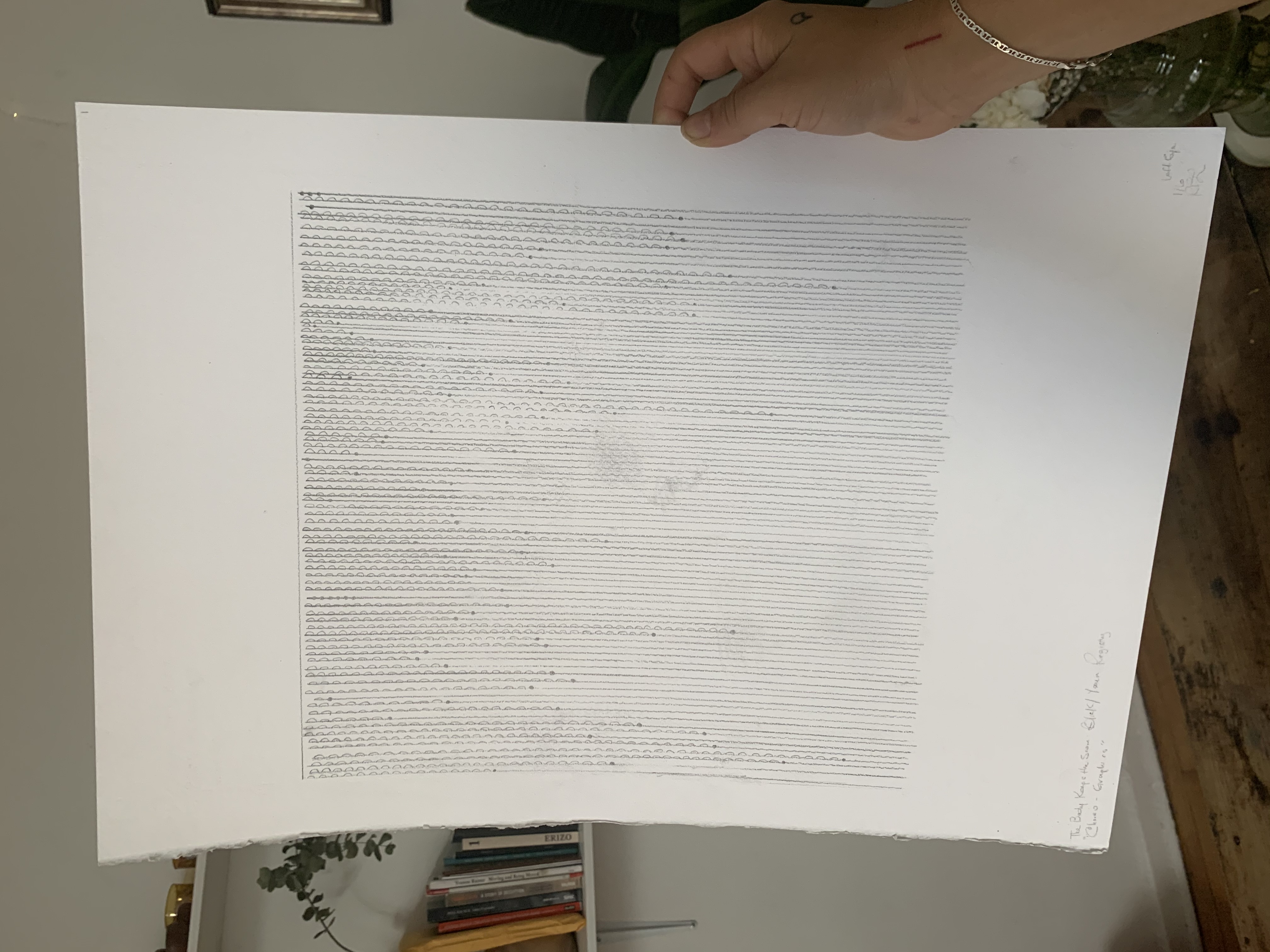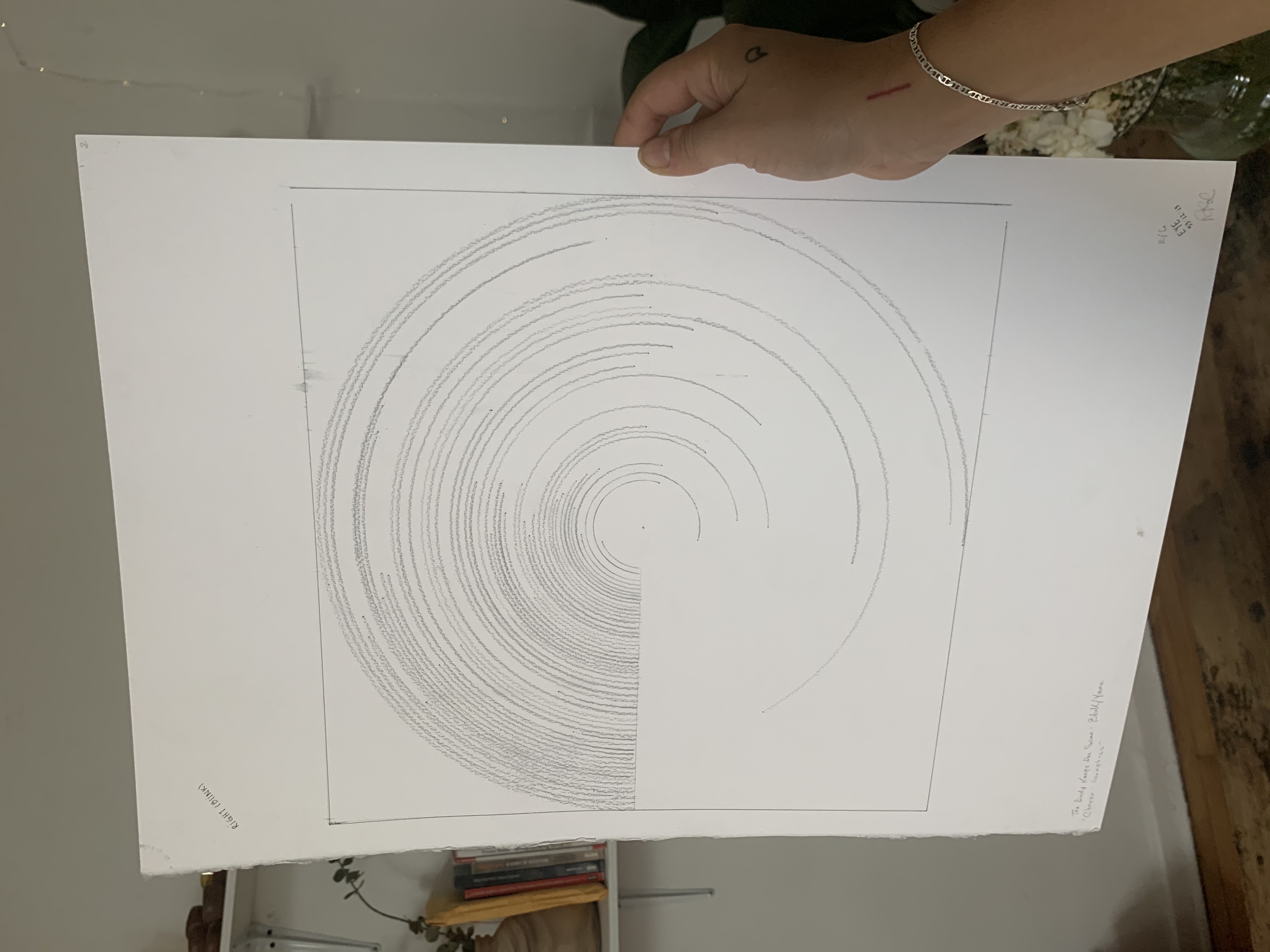 ¨Choreo - Graphs¨ Left and Right eye annotations.

Press
Onda Mx, La Casa de Citas
Terremoto, La Casa de Citas